Sustainability
Environmental Policy
We strive to incorporate sustainability into our core business operations through internal and external efforts. Specifically, we have adopted the following Green Business Program policies and practices:
Reduce, Reuse and Recycle
Purchase Environmentally friendly products
Conserve energy, water and natural resources
Practice Green Business policies on checklist
Reduce, Reuse and Recycle
Increase waste diversion by recycling all paper, bottles and cans AND when it is practical composting all food and landscape waste.
Reduce the waste generated by donating reusable office items (furniture, stationary) to charitable organizations.
Train staff to reduce to go food packaging.

Toxics Reduction
Reduce the use of toxic materials to protect employee health and the environment. Specifically:
Dispose of or recycle toxic products safely
Choose less toxic janitorial cleaning products
Recycle waste lamps, batteries, aerosol cans and other universal waste
Batteries – Purchase rechargeable batteries only
Lamps – Purchase low mercury fluorescent lamps when possible
No dumping down the storm drains

Environmentally Preferable Purchasing
Purchase/use –
Remanufactured toner cartridges
Office & toilet paper with 35%-100% recycled content (or tree free paper)
Products with least packaging (no plastic, styrofoam, aerosol packaging)
Energy Star rated appliances and office equipment
Most water efficient toilets and faucet aerators
Energy saving light bulbs

Conserve
Conserve fossil fuels by promoting the use of public transit and encouraging carpooling.
Employee Education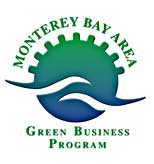 We shall educate employees on resource conservation and pollution prevention through – training programs or brown bag sessions to educate employees on proper recycling practices, resource conservation ideas, importance of low-toxic purchasing etc. We will inform employees of environmental issues in company newsletters, training material and staff meeting discussions.
What You Can Do
On April 2, 2010 Gayle's became a Monterey Bay Area Certified Green Business. We've made changes from ecological lighting to the way we train staff to package food to go. We encourage customers to join us in our efforts to reduce food packaging.
Actions You Can Take
If you don't need a bag for your purchase, or if we can reduce the packaging of your treats in anyway, please let us know.
 Reuse to go containers. Wash the sturdy plastic to go containers and lids in the top rack of your dishwasher. Bring them in again for more Gayle's hot pastas, seasonal salads, roasted meats, etc., reuse them for your brown bag lunch or office supplies.
Recycle to go containers at home. Rinse the containers out thoroughly and put them in your recycle bin. If you can't reuse the containers yourself, help to get them recycled into something else. Keep recylcables out of the landfill.
 Relax and dine here in our cafe or new patio instead of taking food to go. Enjoy your meal on plate here instead of in a container somewhere else. We'd love to have you stay and savor your meal. Plates, flatware and glasses can all be washed and used again.
Bring Your Own Reusables
Reusing your own containers when you shop is an easy way to reduce your impact on the environment. Recycling is great, but reusing is better. Bringing your own containers means less energy and materials will be used to manufacture new containers or recycle used ones.
Bring your own reusable containers when you shop at Gayle's.
All types of clean containers are welcome. You can bring your own plates, cups and cutlery too!
We subtract the weight of your container or plate so you will only be charged for your goodies, not your container.
Make BYOR a new habit. Designate a place in your kitchen for reusable containers to take shopping. Put them in a shopping bag or basket that is easy for you to grab before you go out the door.
Make small changes. If the thought of bringing containers, etc. doesn't seem realistic for you, start refusing simple things like extra napkins or condiment packets.
Also, don't forget to bring your own shopping bags.