Employment
Friendly Staff. Fast-Paced Environment. Great Eats!
We accept applications for employment throughout the year. We select our employees with great care. Our employees take great pride in their work and uphold the highest standards for their co-workers and customers. We have enjoyed a steady rise in growth since our opening in February 1978. This good fortune has made working at Gayle's fun, challenging and rewarding. Gayle's is committed to doing its part to assure you of a satisfying work experience. We offer a variety of full and part time positions. Opportunities for advancement are excellent in our growing business. Visit us on LinkedIn for current job postings. Gayle's Bakery & Rosticceria is an Equal Opportunity Employer.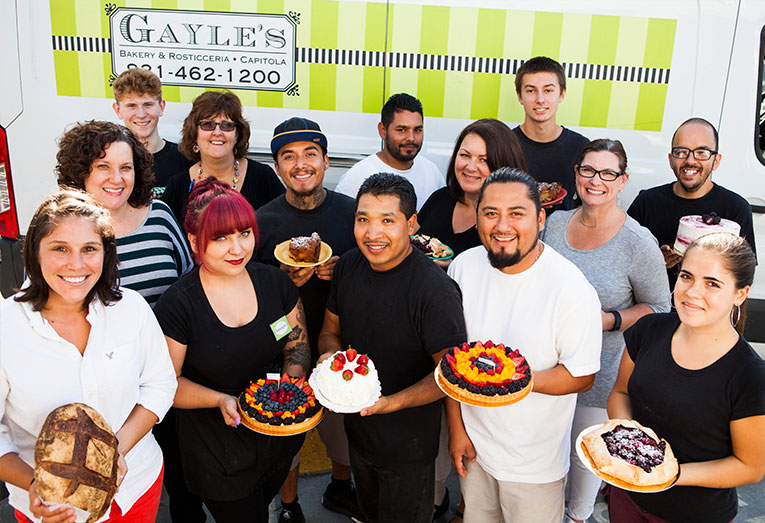 Retail Sales & Barista Positions
Full and Part Time Retail Sales & Barista Positions Available!
We Offer:
• Very Competitive Salary, DOE.
• Generous Meal Credit per Shift
• Health and Vacation Benefits for Those Who Meet Hourly Requirements
• Strong Training Program
• Positive and Professional Work Environment
• Opportunities for Advancement
If you are interested in applying for a position at Gayle's, please download the employment application to your desktop. Type your information into the form and save it, or fill it out with a pen. You can email your application to: jobs@gaylesbakery.com.
Or, bring or mail your application to:
Gayle's Bakery & Rosticceria
504 Bay Avenue
Capitola, CA 95010
Sorry, we do not accept resumes or applications by fax. Please no phone calls.